General
DataXL Mobile Now Available for iOS/iPadOS
June 22nd, 2021
We're excited to announce the release of DataXL Mobile, for iOS/iPadOS. You can now find DataXL mobile for iOS/iPadOS in the App Store along with the Android version that can be found in the Google Play Store.
DataXL Mobile harnesses the bluetooth feature to export data such as thickness readings or files to iOS or Android devices giving users the ability to setup files and view readings all from their mobile devices. DataXL Mobile is available free for ECHO Series and MTG-99 gages with bluetooth and is coming soon to IOS.
Want to add Bluetooth to your ECHO or MTG-99 gage so you can use DataXL Mobile for Android? Contact us today!
Closing out 2020
December 16th, 2020
As we close out 2020, we want to take some time to thank all of our customers, representatives and vendors around the world. This year has been unlike anything we could have predicted and has brought with it challenges not just for us at Danatronics, but for all of you as well. We're grateful to have made it through the year together. Without your support this would have been a much more difficult year. Thankfully, with a great team both in house and abroad, we've weathered the storm and are looking forward to a brighter 2021.
We hope you and your family stay safe this holiday season and have a happy new year
Introducing the MTG-99
July 15th, 2019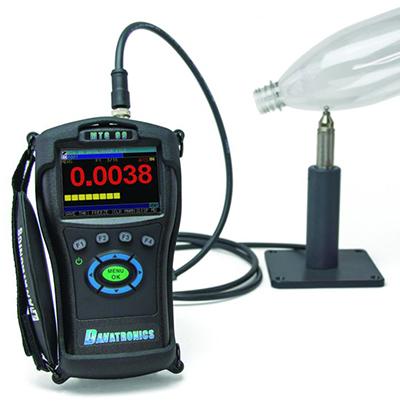 Danatronics is pleased to announce the introduction of our new MTG-99, Magnetic Thickness Gage. The MTG-99 has been cleverly designed and is simple to use to non-destructively measure the thickness of any non-ferrous material up to 1" with access to both sides. The MTG-99 is portable,battery operated, can change color and vibrate on alarm, has an internal datalogger and is proudly in the USA.
Typical applications include plastic bottles, containers, tubing, Titanium, Aluminum and Copper tubes and pipes as well as composite structures.
15 Years!
April 1st, 2019
It is hard to believe we are celebrating our 15th Anniversary. It seems like just yesterday Yogin and I were walking the halls at the old Waltham Watch Factory in our younger, Panametrics, years... time sure does fly.
We would like to take this opportunity to thank our dedicated employees; without your hard work and commitment, our dreams could never have been realized. We would also like to thank our many channel partners for your diligent efforts on our behalf.
In looking back, it always takes longer than I'd like to bring our thoughts and ideas to fruition, but such is the nature of innovating new products. We are stronger and more energized than ever before and have some exciting new products on the horizon. As we continue to see constant change in our industry, one thing remains constant and that is our commitment to you, our tremendous customers. While we are very proud of our accomplishments, we fully acknowledge there is more to be done, and we will continue to raise the bar.
From a business standpoint, we have accomplished quite a bit. Here are a few examples of our breakthroughs:
Designed and brought to market over 30 models of thickness gages and flaw detectors all proudly made in the USA
Designed the first thickness gage a with live color waveform
Produced the first and only thickness gages that vibrate on alarm
Introduced the hand-held ECHO 8FD, combining a flaw detector, corrosion and precision thickness gage all in one unit
Brought on several OEM customers
Tens of thousands of gages sold
50% of our sales are outside the USA
Proudly produce all gages in the USA
Expanded our team
For you, our valued customers ...
To share in our success and to celebrate fifteen years in business, we would like to offer you our 15 for 15 promotion! Please contact us for more details.
Thank you for supporting us all these years, we wouldn't be where we are without you.
We're on TV!
March 27th, 2019
Earlier this month, WCVB's Channel 5 stopped by the office to take a look at what we do. As we close in on our 15th anniversary, it's nice to be reminded of all our hardworking team has accomplished.