General
Danatronics History
May 24th, 2022
We have been asked many times to share the story of Danatronics, so get ready for the
unbelievable tale of the innovative company from Danvers.
Dr Edmund H Carnevale founded Panametrics in December,1960 with two other gentlemen. They
picked the old Waltham Watch Factory as their home. After investing a mere $300 each, they grew
the business to include three divisions, NDT, PCI and Space/Science (R&D). Panametrics further
expanded to 14 worldwide subsidiaries and held more than 40 patents.
Ironically, Dan Carnevale and Yogin Patel started in the thickness gage group, one in sales and the
other in hardware development.
At the end of 2001, Panametrics employeed over 1250 worldwide.
Stay tuned next week for the history of Dan and Yogin's time at Panametrics and the major events
that changed the UT world.
In 1983, Dan Carnevale joined Panametrics as a Sales Engineer after attending Boston University. He
rose to Manager of Flaw Detector Sales after the introduction of the first digital flaw detector, the Epoch
2002. He then became the Sales Manager, International Sales Manager and finally VP of Sales and
Marketing.
Yogin Patel, after also attending Boston University, joined Panametrics in 1989 as a Hardware
Development engineer. He remained in the engineering group and promoted to Director of Hardware
Development.
With Dr. Carnevale planning to retire, Panametrics was acquired by GE Power Systems in June, 2002.
Dan was promoted to Global Sales Leader and Yogin remained Director of Hardware Development until
his departure in 2004.
Rapid changes and the dismantling of loyal employees was difficult to witness. Around this same time,
GE Aviation had purchased Agfa/Krautkramer. GE now owned the two largest ultrasonic manufactures
in the world. As a result of this transaction, Dan tendered his resignation. The FTC and EU could not let
this stand, and GE Panametrics NDT was sold to RD Tech in Quebec.
In April, 2004 Danatronics, originally Danametrics, was formed and Danatronics brought on Yogin Patel
as the Chief Technology Officer. Together with Dan, they represented more than 4 decades of world-
wide experience in the design and sales and marketing experience in the portable ultrasonic
instrumentation market. True to their beliefs, they first embarked on producing a small but innovative
product, they got to work designing their first ultrasonic gage. This represented the core values of
design philosophy: easy to use and extremely innovative. In the early years, borescopes and video
probes were also offered as a compliment to their planned NDT line of products.
The EHC-09 was the first ultrasonic gage produced. Because family meant so much, the significance of
the first UT gage's name was important. EHC stands for Dr. Edmund Henry Carnevale, Dan's father's
initials and the #9 was the number Dan wore throughout his hockey career in high school and in college.
After a year and a half of development, the EHC-09 was released. It was very well received and quickly
updated to include a Datalogger and Waveform, the world's smallest gage with a waveform at that time.
The EHC-09 was the first gage in the world to Vibrate on Alarm, an innovative feature that is offered in
the majority of our product line today. Also, they introduced the world's first sunlight readable Color
Display with waveform, giving a larger display for technicians.
In August, 2005, Dan brought on Nicole Hendrickson to run the front office, a position she still holds
today. Nicole wears many hats and is likely the first person you speak with when calling Danatronics. She
is an integral part of our team.
June, 2009, Danatronics moved its offices to its current location at 150 Andover St., Danvers, MA. The
new facility gave each department their own space and also added a conference room.
Danatronics first flaw detector, released in 2011, was the innovative iFlaw. The iFlaw had a 7" sunlight
readable Touch Screen and a built-in gyroscope allowing either portrait or landscape screen displays.
The iFlaw had a very powerful 600v pulser and 32G Sd card for data storage.
Also in 2011, Philip Jones joined Danatronics as an Electronics Lab Technician, a position he still holds
today, assembling gages, performing repairs and all other hardware related projects.
Courtney Carnevale Shakespeare joined Danatronics in Sept, 2013 as Quality and Logistics Manager. Her
addition continues the family legacy started by her grandfather.
Every gage that goes out the door to our customers, passes through her hands. She ensures the
Danatronics quality standards are met before shipping.
The newest ultrasonic gage designed and manufactured by Danatronics is the Echo 9DLW, released in
2015. Its most unique feature is that it can be upgraded, in the field, to a precision thickness gage and a
flaw detector. Three gages in one package are the most innovative design in conventional ultrasonics
today. The Echo also has a 27hr rechargeable battery for unmatched performance.
Adding to the Danatronics personnel, Larry Gochnauer was added in Jan, 2018 as their Sales Manager.
Danatronics will continue to grow and provide the most innovative instruments for the future.
The Danatronics mission statement: "To provide the highest level of product innovation and quality as
well an outstanding level of customer satisfaction".
Lets see what the future holds………….
DataXL Mobile Now Available for iOS/iPadOS
June 22nd, 2021
We're excited to announce the release of DataXL Mobile, for iOS/iPadOS. You can now find DataXL mobile for iOS/iPadOS in the App Store along with the Android version that can be found in the Google Play Store.
DataXL Mobile harnesses the bluetooth feature to export data such as thickness readings or files to iOS or Android devices giving users the ability to setup files and view readings all from their mobile devices. DataXL Mobile is available free for ECHO Series and MTG-99 gages with bluetooth and is coming soon to IOS.
Want to add Bluetooth to your ECHO or MTG-99 gage so you can use DataXL Mobile for Android? Contact us today!
Closing out 2020
December 16th, 2020
As we close out 2020, we want to take some time to thank all of our customers, representatives and vendors around the world. This year has been unlike anything we could have predicted and has brought with it challenges not just for us at Danatronics, but for all of you as well. We're grateful to have made it through the year together. Without your support this would have been a much more difficult year. Thankfully, with a great team both in house and abroad, we've weathered the storm and are looking forward to a brighter 2021.
We hope you and your family stay safe this holiday season and have a happy new year
Introducing the MTG-99
July 15th, 2019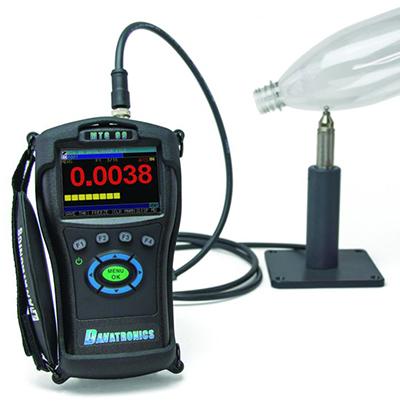 Danatronics is pleased to announce the introduction of our new MTG-99, Magnetic Thickness Gage. The MTG-99 has been cleverly designed and is simple to use to non-destructively measure the thickness of any non-ferrous material up to 1" with access to both sides. The MTG-99 is portable,battery operated, can change color and vibrate on alarm, has an internal datalogger and is proudly in the USA.
Typical applications include plastic bottles, containers, tubing, Titanium, Aluminum and Copper tubes and pipes as well as composite structures.
15 Years!
April 1st, 2019
It is hard to believe we are celebrating our 15th Anniversary. It seems like just yesterday Yogin and I were walking the halls at the old Waltham Watch Factory in our younger, Panametrics, years... time sure does fly.
We would like to take this opportunity to thank our dedicated employees; without your hard work and commitment, our dreams could never have been realized. We would also like to thank our many channel partners for your diligent efforts on our behalf.
In looking back, it always takes longer than I'd like to bring our thoughts and ideas to fruition, but such is the nature of innovating new products. We are stronger and more energized than ever before and have some exciting new products on the horizon. As we continue to see constant change in our industry, one thing remains constant and that is our commitment to you, our tremendous customers. While we are very proud of our accomplishments, we fully acknowledge there is more to be done, and we will continue to raise the bar.
From a business standpoint, we have accomplished quite a bit. Here are a few examples of our breakthroughs:
Designed and brought to market over 30 models of thickness gages and flaw detectors all proudly made in the USA
Designed the first thickness gage a with live color waveform
Produced the first and only thickness gages that vibrate on alarm
Introduced the hand-held ECHO 8FD, combining a flaw detector, corrosion and precision thickness gage all in one unit
Brought on several OEM customers
Tens of thousands of gages sold
50% of our sales are outside the USA
Proudly produce all gages in the USA
Expanded our team
For you, our valued customers ...
To share in our success and to celebrate fifteen years in business, we would like to offer you our 15 for 15 promotion! Please contact us for more details.
Thank you for supporting us all these years, we wouldn't be where we are without you.