Corrosion Thickness Gages
EHC-03
The EHC-03 represents a quality, ultrasonic thickness gage designed to provide years of unprecedented measurements all at an entry level price.
Danatronics is pleased to welcome our EHC-03 to our corrosion thickness gage family. The EHC-03 is designed to accurately and non-destructively measure metal structures subject to corrosion.

The EHC-03 is packaged in our field proven IP54 case used in our popular EHC-09 and UPG-07 series of thickness gages. The EHC-03 represents a quality, ultrasonic thickness gage designed to provide years of unprecedented measurements all at an entry level price.

With the new Q-bar, even the most inexperienced operators can quickly determine if a thickness reading is stable. The EHC-03 offers a wide measurement range, two point calibration and even multiple on-screen languages. The EHC-03 is proudly made in the U.S.A. and has a 2 year warranty.
REQUEST A QUOTE
Features:
Affordable hand held ultrasonic thickness gage
Measures .040"-20" of steel
Simple to operate
2 point calibration
Q-bar to confirm measurement stability
On screen display of multiple languages
IP54 rated case
Made in USA
Typical Applications:
Boiler Tubes
Pressure Vessels
Storage Tanks
Ship Hulls
Containers Home
Oil Tanks
Pipes
Steam Lines
Compressor Shafts
REQUEST A QUOTE
Size:
5" (127 mm) (L) x 3" (76.2 mm) (W) x 1.25" (31.75 mm) (H)
Weight:
8 OZ (.23 kg)
Thickness range:
.040"-20" (1mm-508mm) in steel

Material Velocity Calibration Range:
0.0200 - 0.7362 in/uS (0.508 - 18.699 mm/uS).
Temperature:
Gage Operating: -4° F to 122° F (-20° C to 50° C)
Battery life:
Up to 50 hours (20 hours with backlight on)
Battery type:
2 "AA" Alkaline
Display:
128 X 64 Graphics LCD monochrome, sunlight readable
Language support:
multi language of English,French, Spanish, Italian, Czech, German, Chinese, Portuguese, Slovak, Finnish, and Hungarian
Q-Bar:
graphic display that confirms measurement stability
Package:
IP54 rated custom, splash-proof, high impact plastic with rubber keypad
Bandwidth:
0.5-20 MHz (-3dB)
Units:
English/Metric/Microseconds
Backlight:
Auto on with valid reading or key press for 10 seconds
Optional Protective pouch:
Custom molded pouch with wrist strap and belt clip
Transport case:
Hard plastic with high density molded foam cut out for gage and most accessories
Freeze mode:
Freezes display
Hold mode:
Holds display to retain last thickness reading
Standard EHC-03 includes:
Ultrasonic thickness gage, DKS-537 5MHz 0.375 inch diameter potted cable, operational manual, NIST traceable calibration certificate
Warranty:
Limited 2 year warranty on parts and labor for gage only under normal use
Note: The EHC-03 is only available with the DKS-537 and is not field upgradeable.
REQUEST A QUOTE
We are able to offer the EHC-03 at a budget friendly price, in part, because it is not able to be upgraded in the field. If you are looking for a gage that can be upgraded later on, or if you are looking for specific add on features such as a Datalogger, Waveform or Echo to Echo please look at our ECHO or EHC-09 series of thickness gages.
ECHO 9
ECHO 8
EHC-09 Color
EHC-09 Monochrome
REQUEST A QUOTE
The following accessories are available for the EHC-03 series
5 Step Test Block
We offer a 5 step test block, made of carbon steel with nickel plating engraved in both English and Metric values from .100', .200", .300", .400", .500" or 2.54mm, 5.05mm, 7.5mm, 10.0mm, 12.7mm (No certification is provided with these blocks but can be provide on special order for an additional fee)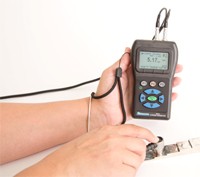 Protective Pouch
Custom protective pouch Part Number PP-09 for the EHC-09 Series.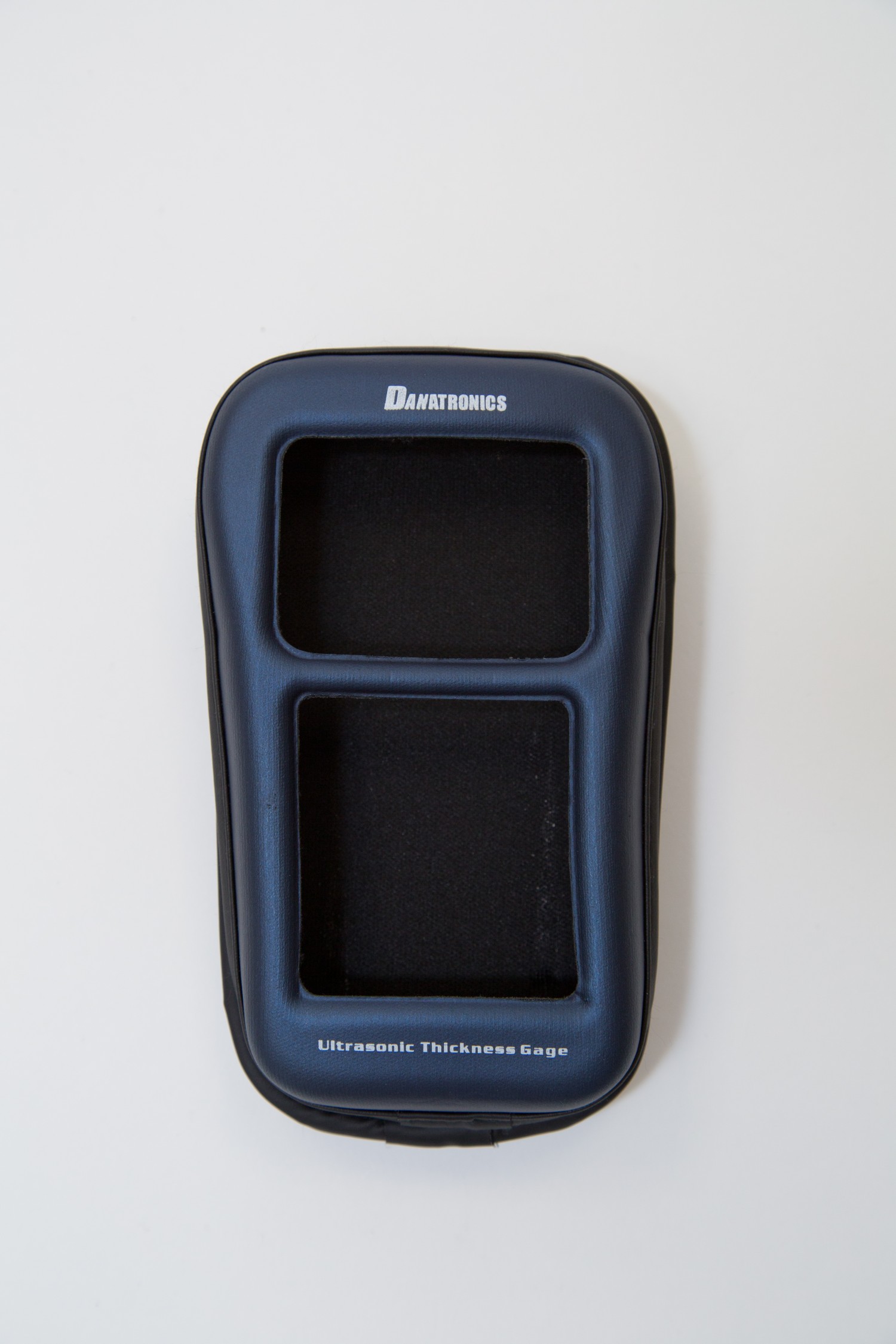 EHC Transport Case
The EHC-09 Transport Case is shown with common inclusions. (Pouch, Spare batteries and 5 step test block sold separately).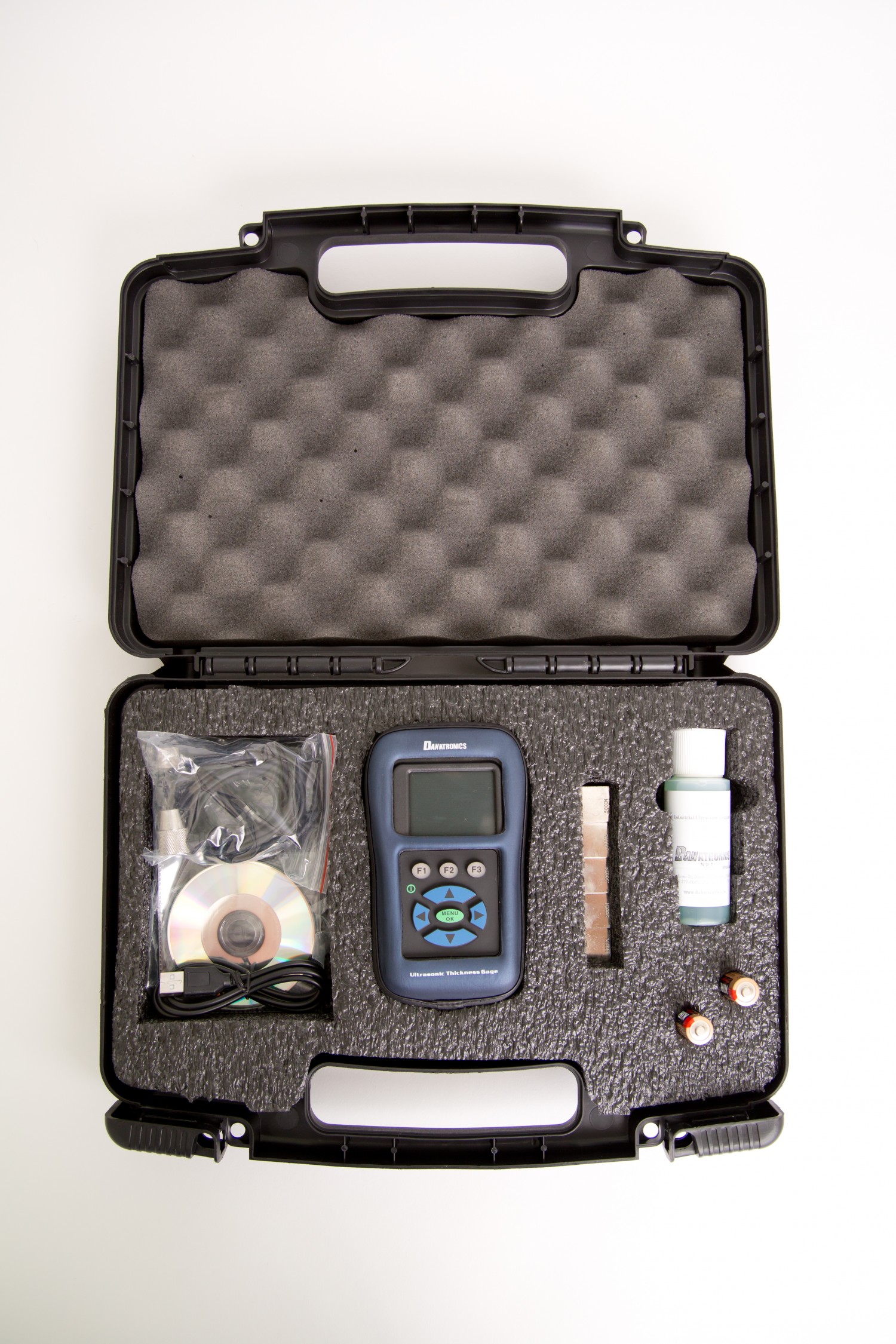 Couplants
We offer a variety of ultrasonic couplants from a standard gel in 2 Oz. or 12 Oz. options, to high temperature up to 1100 Degrees F. Contact us for more details.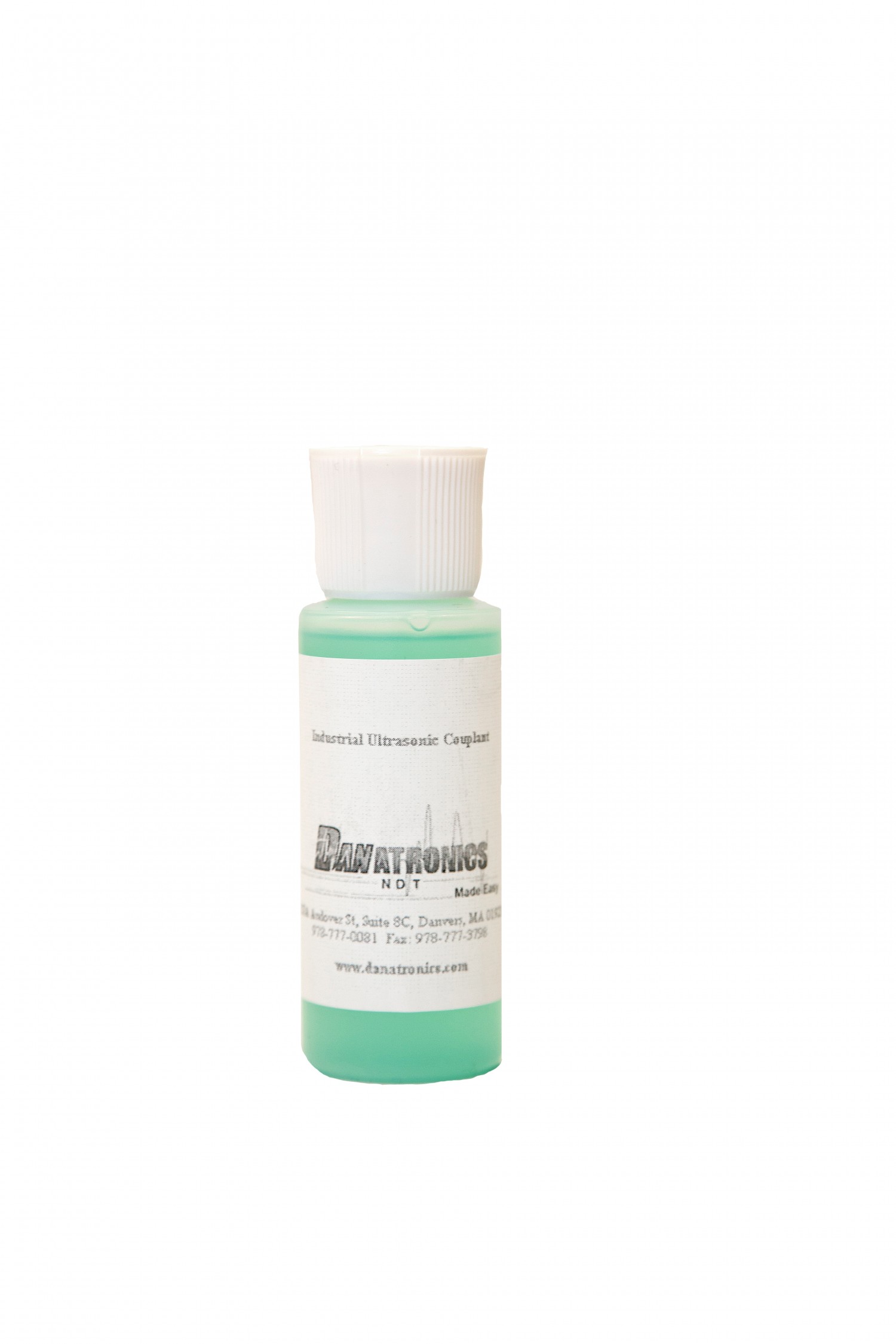 AC Power
With this hardware upgrade, the EHC-03 can be used with AC Power (please note, this is not a re-charging system). In other words, with this option, the EHC-09 can be either used with AC or battery mode.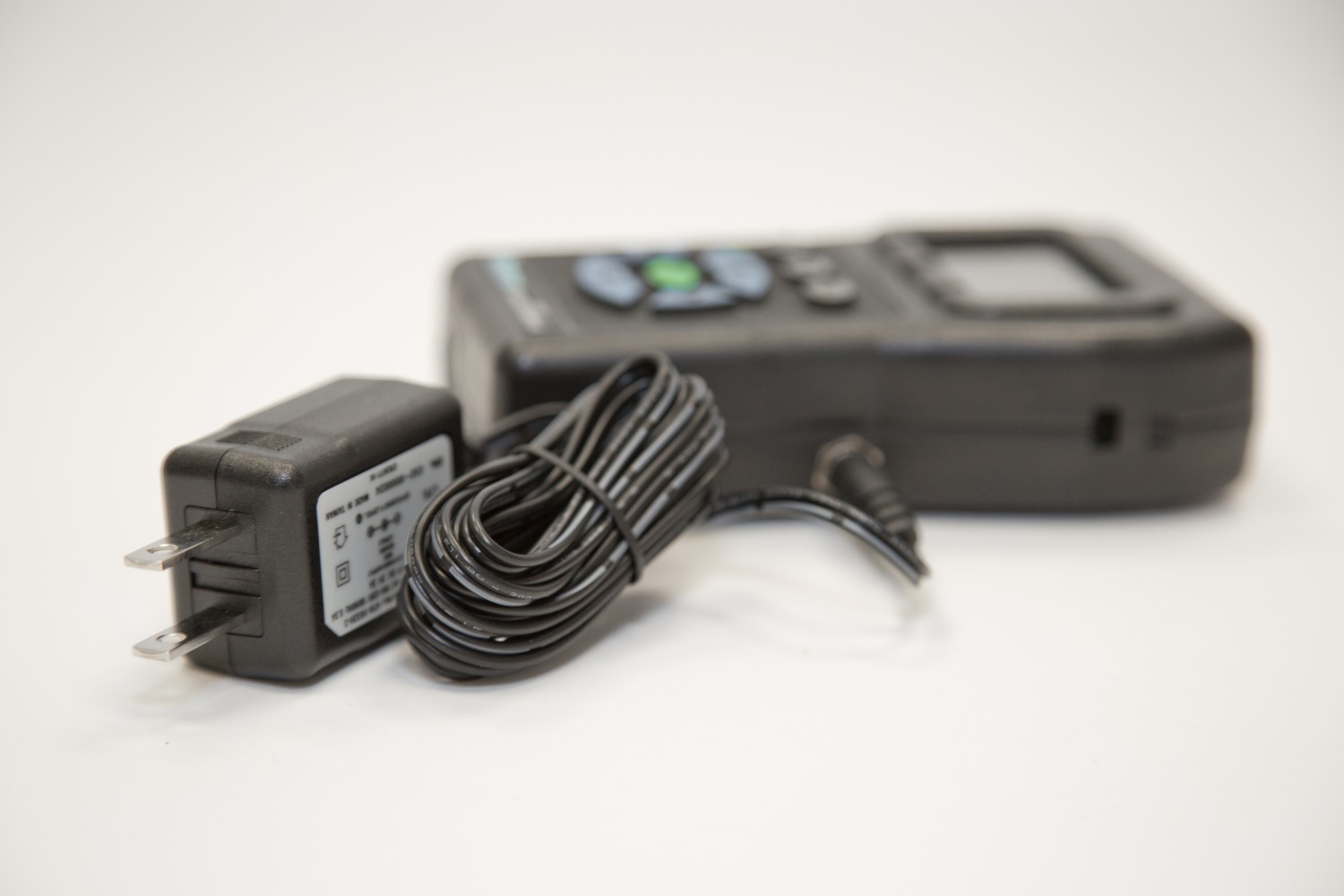 Footswitch
With this hardware option the operator can use a footswitch to save, freeze or send readings.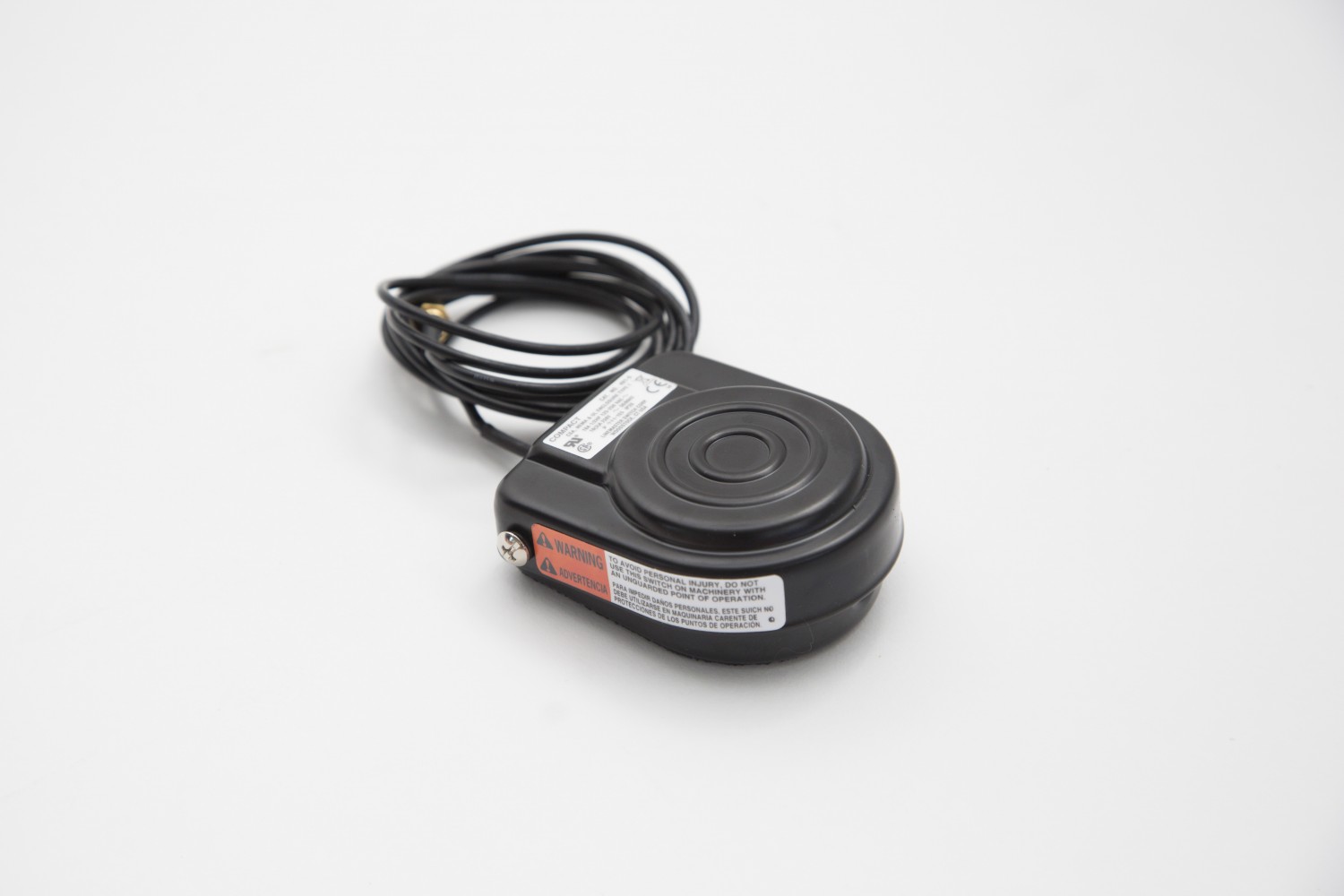 REQUEST A QUOTE

The EHC-03 was designed to work in conjunction with our DKS-537 transducers. The DKS-537 is a 5mhz, K85 transducer with a .375" diameter. It's range in steel is .040"-20.0" (1mm-508mm).

*Note: The EHC-03 is not compatible with our other transducer offerings