Corrosion Thickness Gages
EHC-09 Monochrome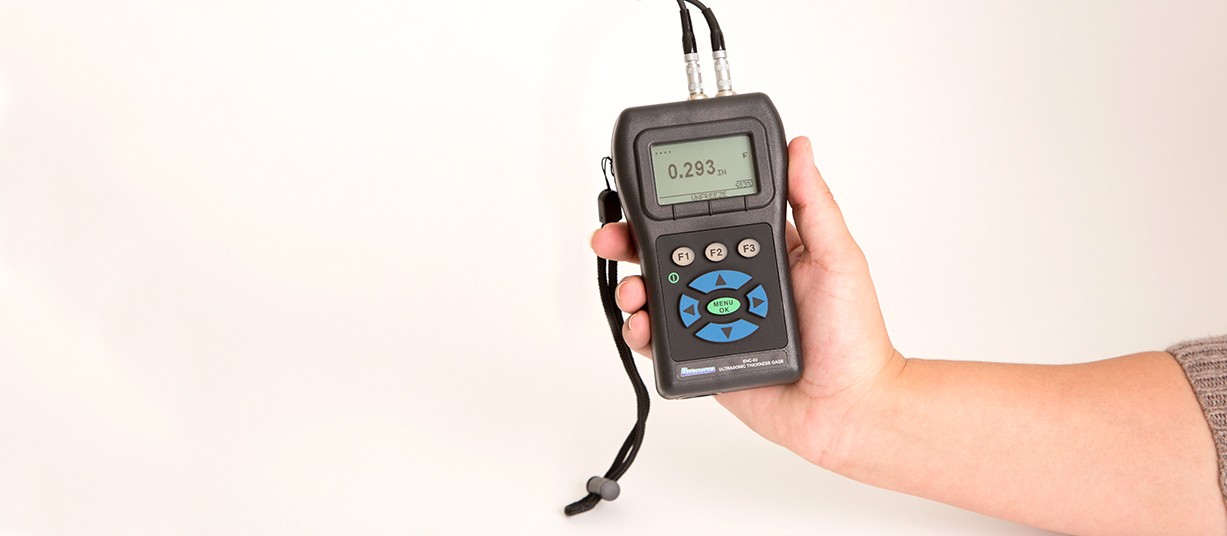 Danatronics EHC-09 Monochrome series comes in 6 models ranging from our EHC-09A to the fully loaded EHC-09DLW that includes Echo to Echo, B-Scan, a 100k reading datalogger and a live Waveform (A-Scan).
Danatronics most popular thickness gages are those in our EHC-09 series. With thousands of units in the field, our durable, custom molded case with raise rubber keypad is IP54 rated and has proven it can handle your toughest jobs. The EHC-09 series is available in 6 models to suit every budget and application. What's best is our simple upgrade path where all gages are capable of quickly and easily (directly from the keypad) adding any software options. Features include a graphic display with multiple languages, vibrate on alarm, fast minimum, echo to echo to ignore coatings, 100K reading Datalogger with export to excel, B-scan and live A-scan with waveform adjust.
REQUEST A QUOTE
Features:
Vibrate on alarm
Illuminating keypad for easy to view go/no-go thickness values
Up to 50 hour battery life with 2 "AA" batteries
Automatic Zero Capability
2 point calibration
Gain Boost
Multiple dual and single element transducer options including high temperature - up to 1000° F (537° C)
Echo To Echo option to ignore coatings
B-Scan option
100K alphanumeric Datalogger with export to excel
Typical Applications:
Boiler Tubes
Pressure Vessels
Storage Tanks
Ship Hulls
Containers
Home Oil Tanks
Pipes
Steam Lines
Compressors
Shafts
REQUEST A QUOTE
Our EHC-09 series is our most popular series. The EHC-09 is available in 6 models ranging from our most basic EHC-09A to our loaded EHC-09DLW. See options tab for more details and individual software options.
EHC-09A
The EHC-09A is our entry level, field upgradeable gage in our EHC-09 series. It can be used with three transducers. The standard and default transducer is our DKS-537 which measures from .040-20" in steel the DC-250 is the preferred probe for more attenuating materials such as castings and the DK-718 for thinner (.030" in steel) or smaller diameter applications such as boiler tubes. Our EHC-09 series gages come standard with a carrying case, 2oz bottle of couplant, DKS-537 transducer. (shown right: Standard kit inclusions. Test block and batteries sold separately)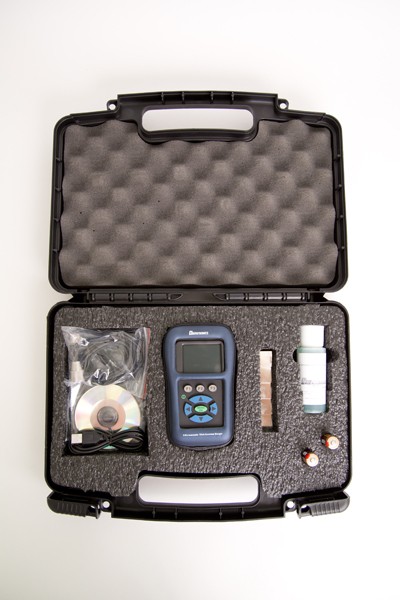 EHC-09B
The EHC-09B model includes all the features of the EHC-09A as well as the full fleet of offered probes for the EHC-09 family. The EHC-09B also includes an alarm that beeps on alarm conditions.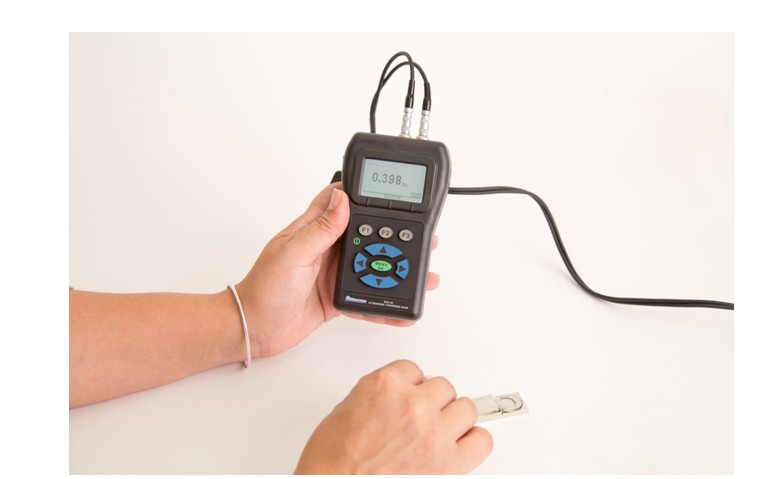 EHC-09
The EHC-09 includes all the features of the EHC-09B model. The EHC-09 also includes echo to echo to ignore coatings, vibrate on alarm, and fast minimum. Vibrate on alarm informs the user when a thickness is above or below a preset threshold by causing the gage to vibrate, making it ideal for loud working environments. Fast Minimum can make 20 readings per second as well as hold on to the minimum reading while simultaneously displaying the actual reading, gain adjust in low, standard and high in 3dB settings, velocity mode to use the gage as a velocimeter as well as hold and differential modes.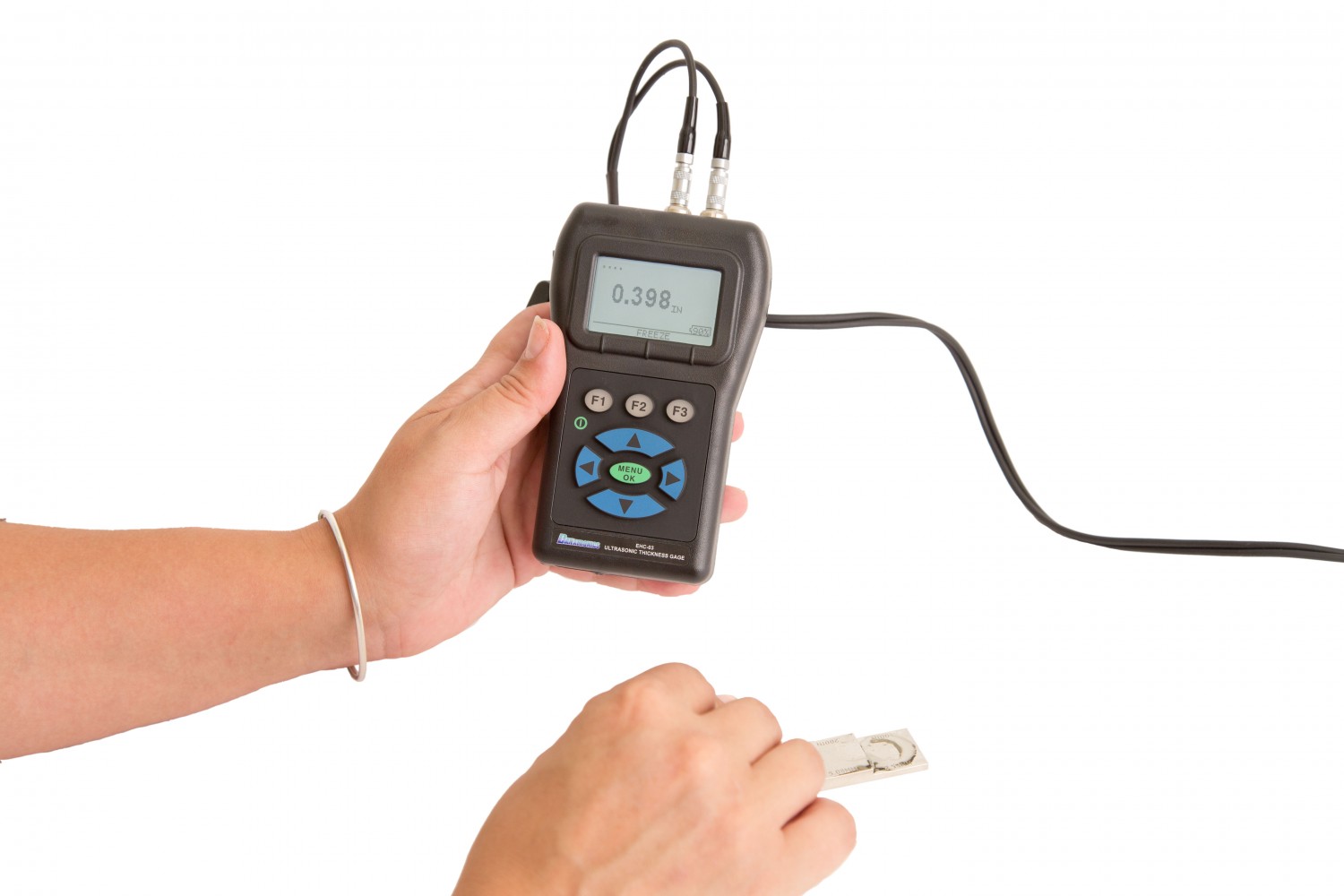 EHC-09DL
The EHC-09DL model includes all the features of the EHC-09 as well as a 100,000 reading Datalogger with the ability to export readings to excel. It also includes the ability to view B-Scans as well. The EHC-09DL kit comes with a USB cable and a protective pouch.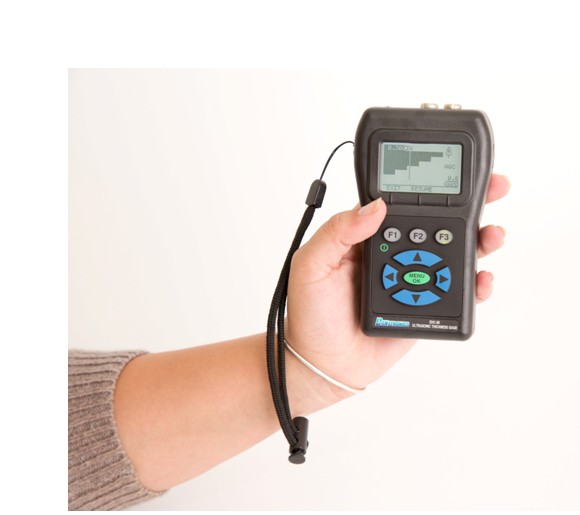 EHC-09W
The EHC-09W combines a live waveform with all of the features of the EHC-09 gage (no datalogger). Additionally, it can adjust range, gain, blanks, and rectification.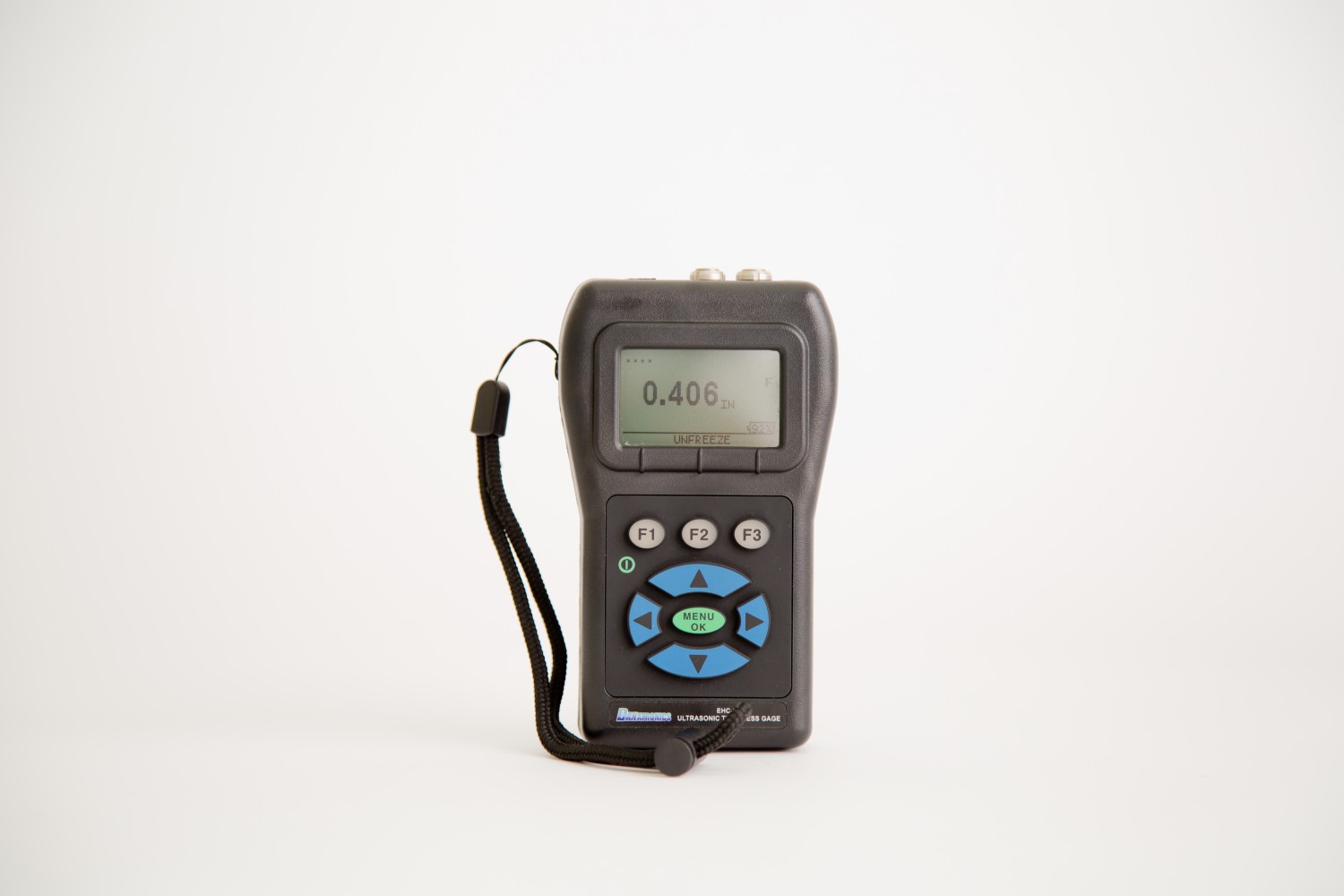 EHC-09DLW
This is our top-of-the-line model containing all the features of the EHC-09DL and the EHC-09DLW. It includes Echo to Echo, Bscan, a 100,000 reading Datalogger (36,000 waveforms) and a live waveform.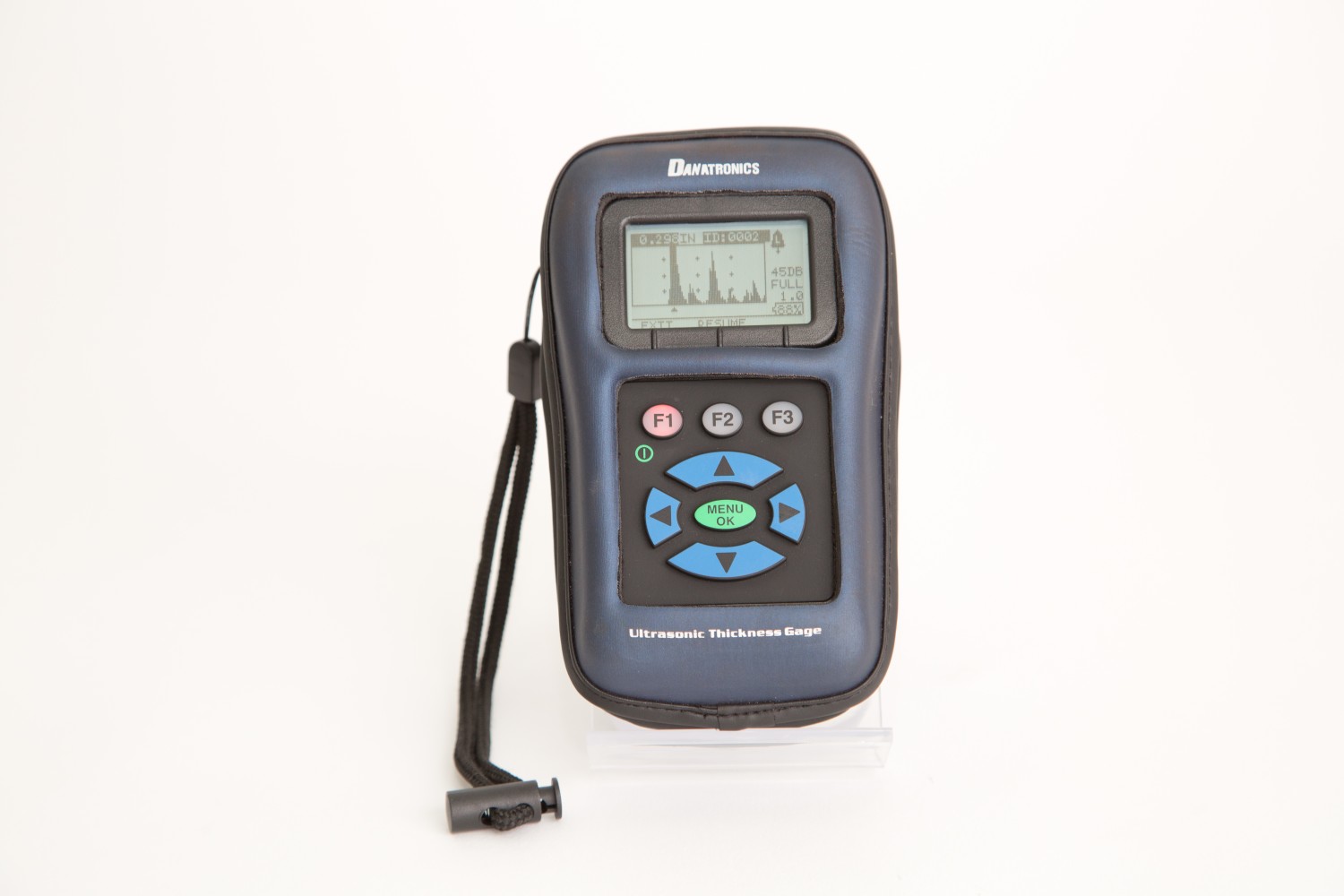 REQUEST A QUOTE
Size:
5" (127 mm) (L) x 3" (76.2 mm) (W) x 1.25" (31.75 mm) (H)
Weight:
8 OZ (.23 kg)
Thickness range:
0.020 - 20 inches (.50 mm - 508 mm) in steel, depending on material, temperature and transducer selection
Material Velocity Calibration Range:
0.0200 - 0.7362 in/uS (0.508 - 18.699 mm/uS)
Temperature:
Gage Operating: -4° F to 122° F (-20° C to 50° C) High temperature transducers available for material temperatures from -5° F to 950° F (-20.5° C to 510° C)
Battery life:
Up to 50 hours (20 hours with backlight on)
Battery type:
2 "AA" Alkaline
Display:
128 X 64 Graphics LCD monochrome, sunlight readable
Language support:
multi language of English, French, Spanish, Italian, Czech, German, Portuguese, Slovak, Finnish, Hungarian and Chinese on select models

Information displays:
Loss of signal (LOS), min, max, large reading while displaying min at the same time, velocity, zero, calibration, units, freeze, unfreeze, % battery life remaining, gain - low, std, high, echo to echo symbol
Resolution:
.001" (.01 mm), .01" (.1mm) user selectable
Probe recognition:
Via a pick list from a menu

Delay line auto zero measurement:
Auto at power up with listed numeric value. Ideal for correcting delay line wear/curvature and for transducer acoustic drift at elevated temperatures

Package:
IP54 rated Custom, splash-proof, high impact plastic with illuminating rubber keypad for go/no-go testing
Bandwidth:
0.5-20 MHz (-3dB)
Units:
English/Metric/Microseconds
Gain:
Low, Standard and High for varying test conditions (for gages without a waveform) or 1 dB steps from 20-90 dB or Automatic Gain Control (AGC) for gages with a waveform
Fast Min/Max Mode:
Simultaneously displays minimum or maximum and actual thickness value at 20 measurements per second
Differential Mode:
Displays the difference from the actual thickness measurement in absolute or percentage of a user entered reference value
Alarms:
Minimum/Maximum depth, vibrates, beeps and display flashes as well as keypad illumination
Illuminating keypad:
F1 = Red, F2 = Yellow and F3 = Green for easy go/no-go testing
Ergonomics:
User selectable lefty or rightly display changes via keypad
Backlight:
Light Emitting Diode, On/Off or Auto On based on valid readings or last key press
Shut off:
Auto, user programmable time out (1-31 minutes), after no reading/key press or never shut off
Protective pouch:
Custom molded pouch with wrist strap and belt clip (Optional, standard on DLW and DL gages)
Transport case:
Hard Plastic with high density molded foam cut out for gage and most accessories
Freeze mode:
Freezes display (ideal for high temperature readings)
Hold mode:
Holds display to retain last thickness reading

Standard EHC-09 Inclusions:
Ultrasonic thickness gage, DKS-537, 5 MHz 0.375 inch diameter potted cable, Data XL interface program, couplant, and transport case. See chart below for standard inclusions for each gage
Warranty:
Limited 2 year warranty on parts and labor for gage only under normal use
Transducers:
A wide variety of dual transducers from 1-10 mhz, high temperature duals, delay lines and pencil probes. Note the EHC-09A only works with the DK-718, DK(S)-537 and the DC-250.
REQUEST A QUOTE
EHC-09 Software Options are easy and convenient to upgrade in the field. Danatronics gage upgrades are done directly from your gage's keypad and do not require the use of a computer.
The following are available upgrades for the EHC-09 Monochrome Series
Echo to Echo to ignore Coatings
Comes Standard on EHC-09, EHC-09W, EHC-09DL and EHC-09DLW gages
This option allows for the coating or paint thickness to be ignored. The coating thickness or paint does not add any structural integrity to the base material. Without the ability to subtract the paint, the normal measurement would introduce an error of 2 to 2.5 times the thickness of the paint, which represents the sound speed difference from Paint to Steel. In addition it is expensive and time consuming to grind out the coating thickness and to re-apply a coating.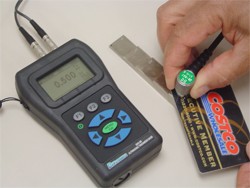 B-Scan
Comes standard on the EHC-09DL and EHC-09DLW
This option is only available combined with the Datalogger option. Provides a non-encoded (time base) or a cross section (side view) of the part being inspected. The image above shows the side view of a step block. The operator can scroll where the cursor line is after a B-scan is generated to get the thickness value as that point (.100") shown above.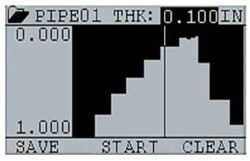 Datalogger
Comes standard with the EHC-09DL and EHC-09DLW
The EHC-09 Datalogger stores up to 100,000 readings in its internal Datalogger as linear, 2D, 3D, or boiler in alphanumeric or 2600 waveforms (if gage is equipped with waveform option). Thickness values along with the i.d. information and all gage set up parameters are exported to Microsoft excel via the no-charged, Data XL interface program available on our website. Our Datalogger also interfaces with Ultrapipe.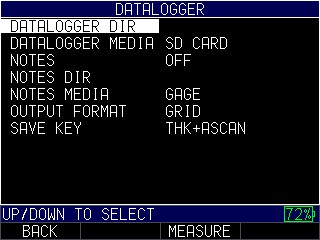 Live Waveform
Comes standard with the EHC-09W and EHC-09DLW
The live waveform (A-scan) is used to verify reading stability. With the live waveform the operator can adjust gain, range, rectification and 2 forms of blanking to set the gage to ignore unwanted noise or mode converted echoes.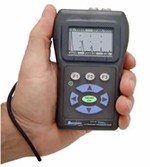 REQUEST A QUOTE
The following accessories are available for the UPG-07 series
Spring Loaded Holder
The spring loaded holder (SPH-718) is the ideal fixture to be used on small diameter applications such as tubing to prevent the probe from rocking. Shown above is the SPH-718 with the DK718 transducer inside. The probe can be rotated as well and the fixture has v-notches to assist in probe alignment.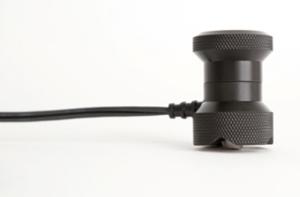 5 Step Test Block
We offer a 5 step test block, made of carbon steel with nickel plating engraved in both English and Metric values from .100', .200", .300", .400", .500" or 2.54mm, 5.05mm, 7.5mm, 10.0mm, 12.7mm (No certification is provided with these blocks but can be provide on special order for an additional fee)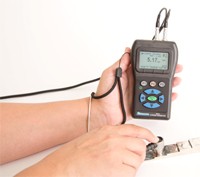 Protective Pouch
Custom protective pouch Part Number PP-09 for the EHC-09 Series.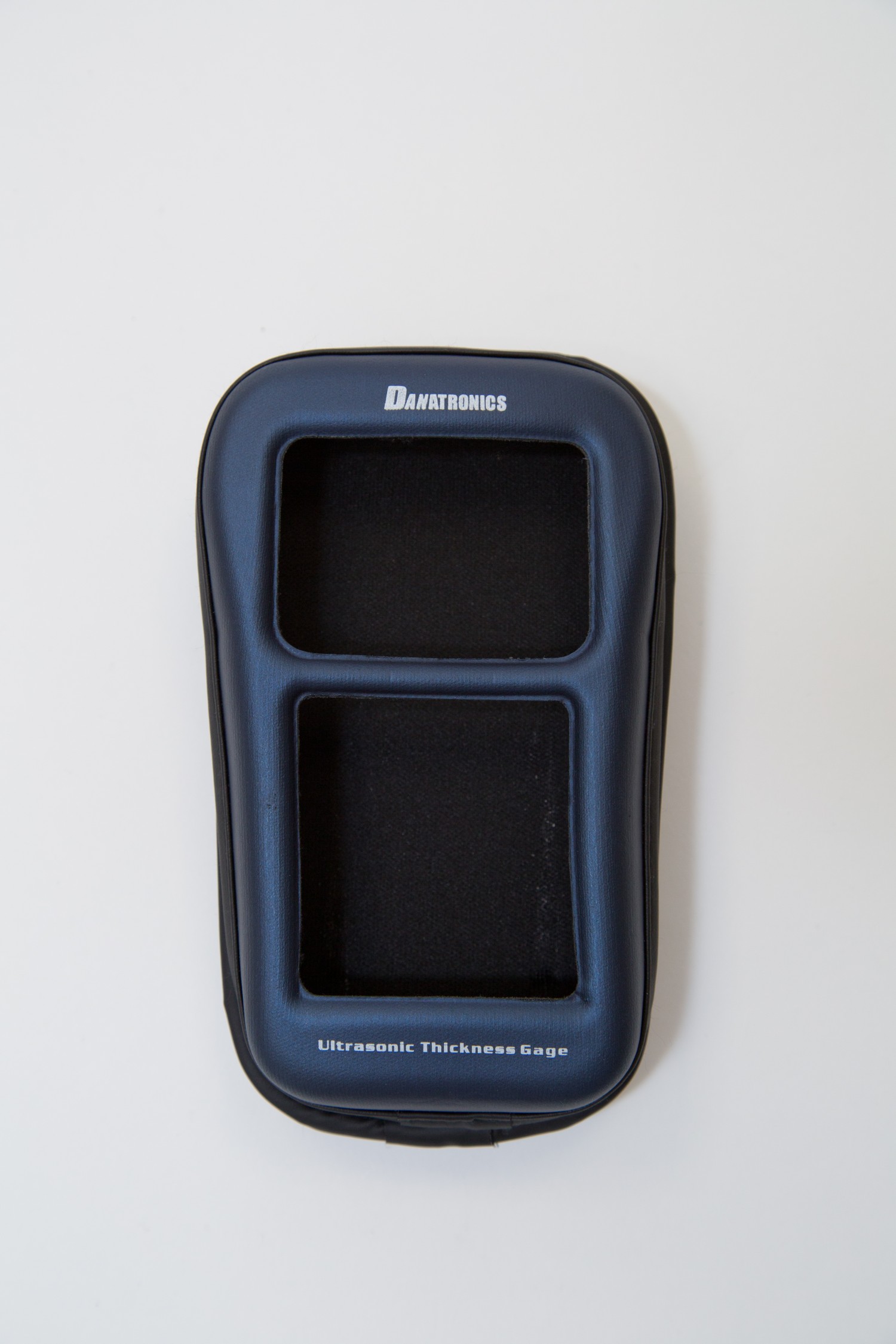 EHC Transport Case
The EHC-09 Transport Case is shown with common inclusions. (Pouch, Spare batteries and 5 step test block sold separately).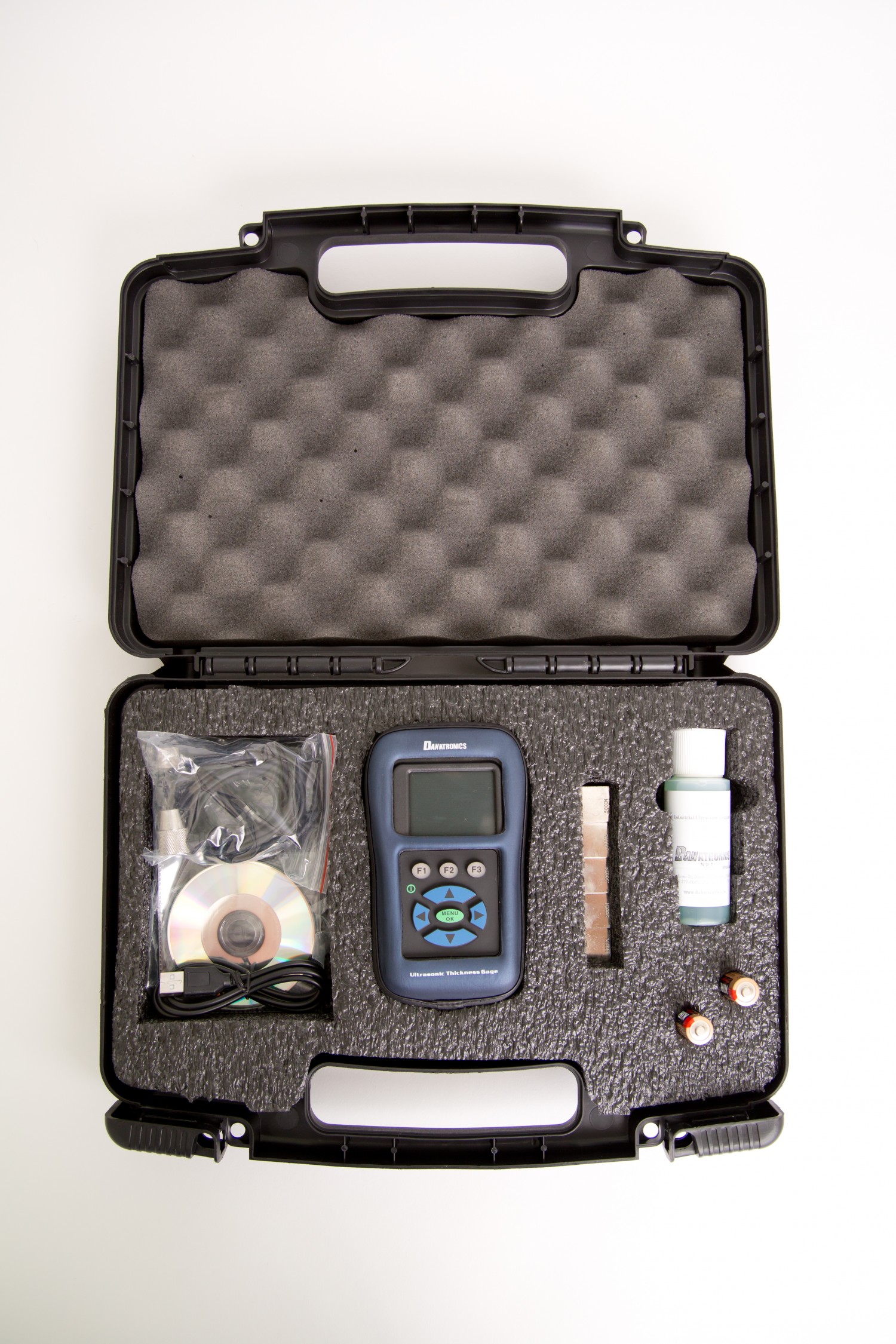 Cables
Dual and single cables offered in 6 feet or other lengths upon special order. Shown left to right: DLM-06, DLM-06ACMP, LM-06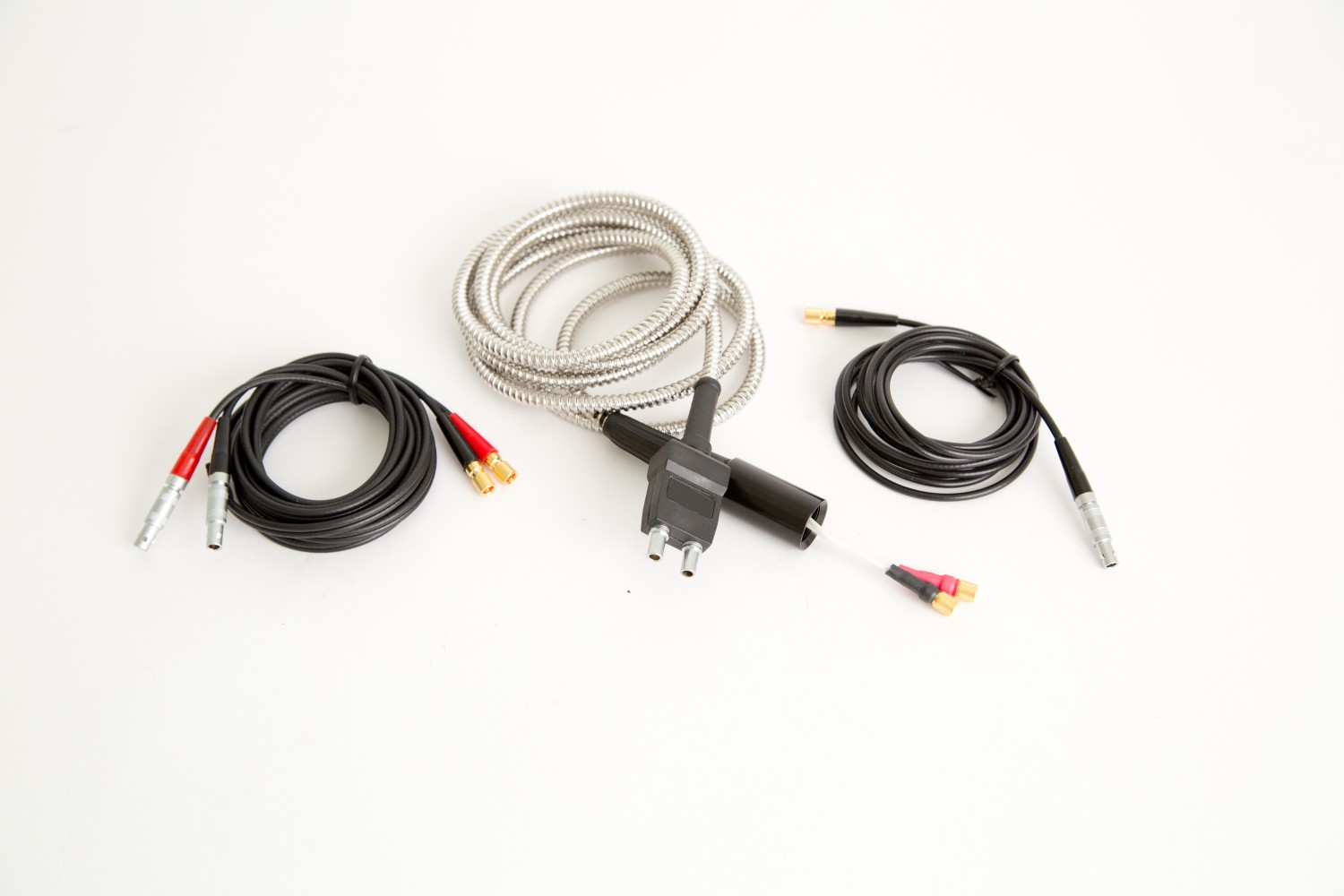 Couplants
We offer a variety of ultrasonic couplants from a standard gel in 2 Oz. or 12 Oz. options, to high temperature up to 1100 Degrees F. Contact us for more details.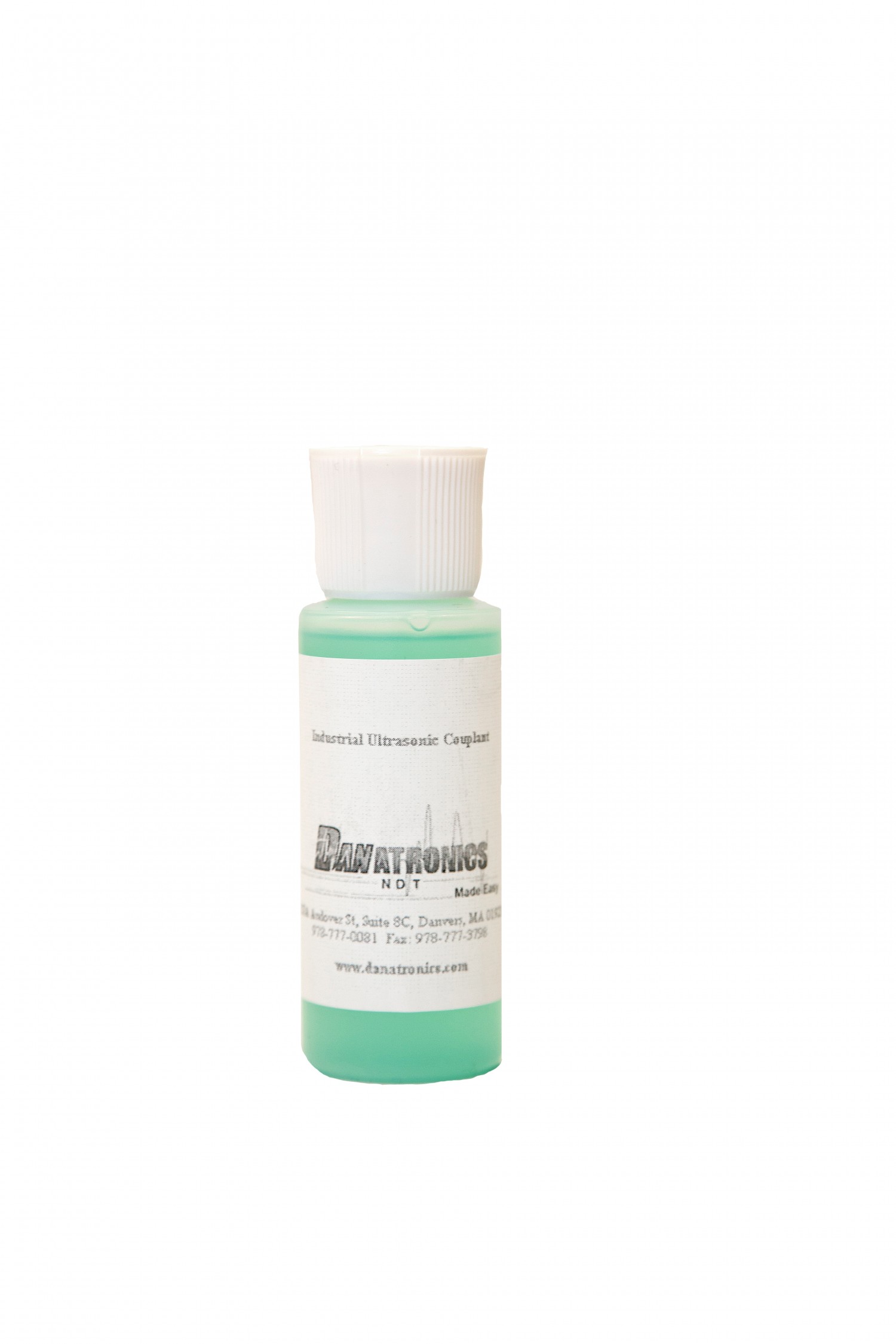 AC Power
With this hardware upgrade, the EHC-09 can be used with AC Power (please note, this is not a re-charging system). In other words, with this option, the EHC-09 can be either used with AC or battery mode.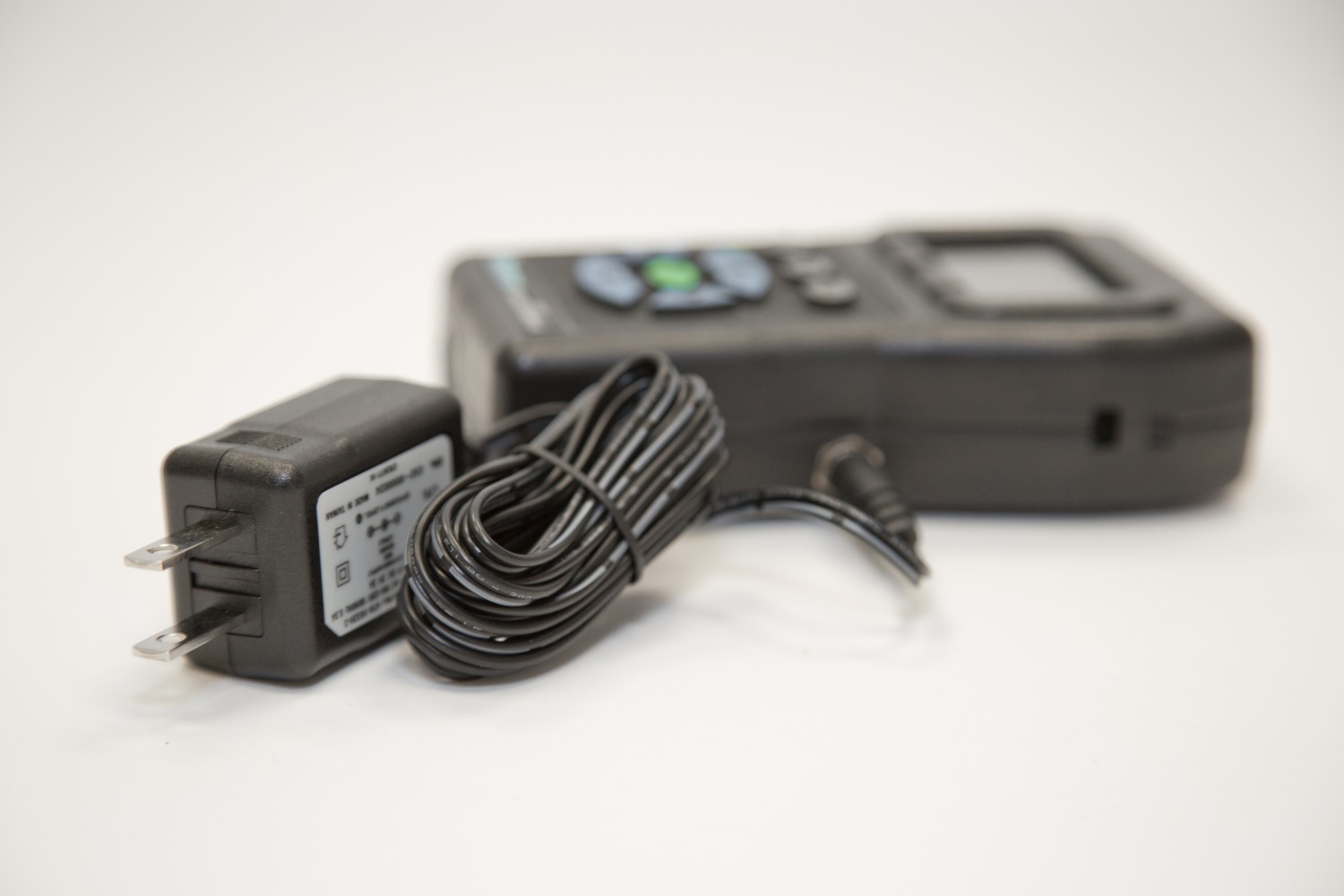 Footswitch
With this hardware option the operator can use a footswitch to save, freeze or send readings.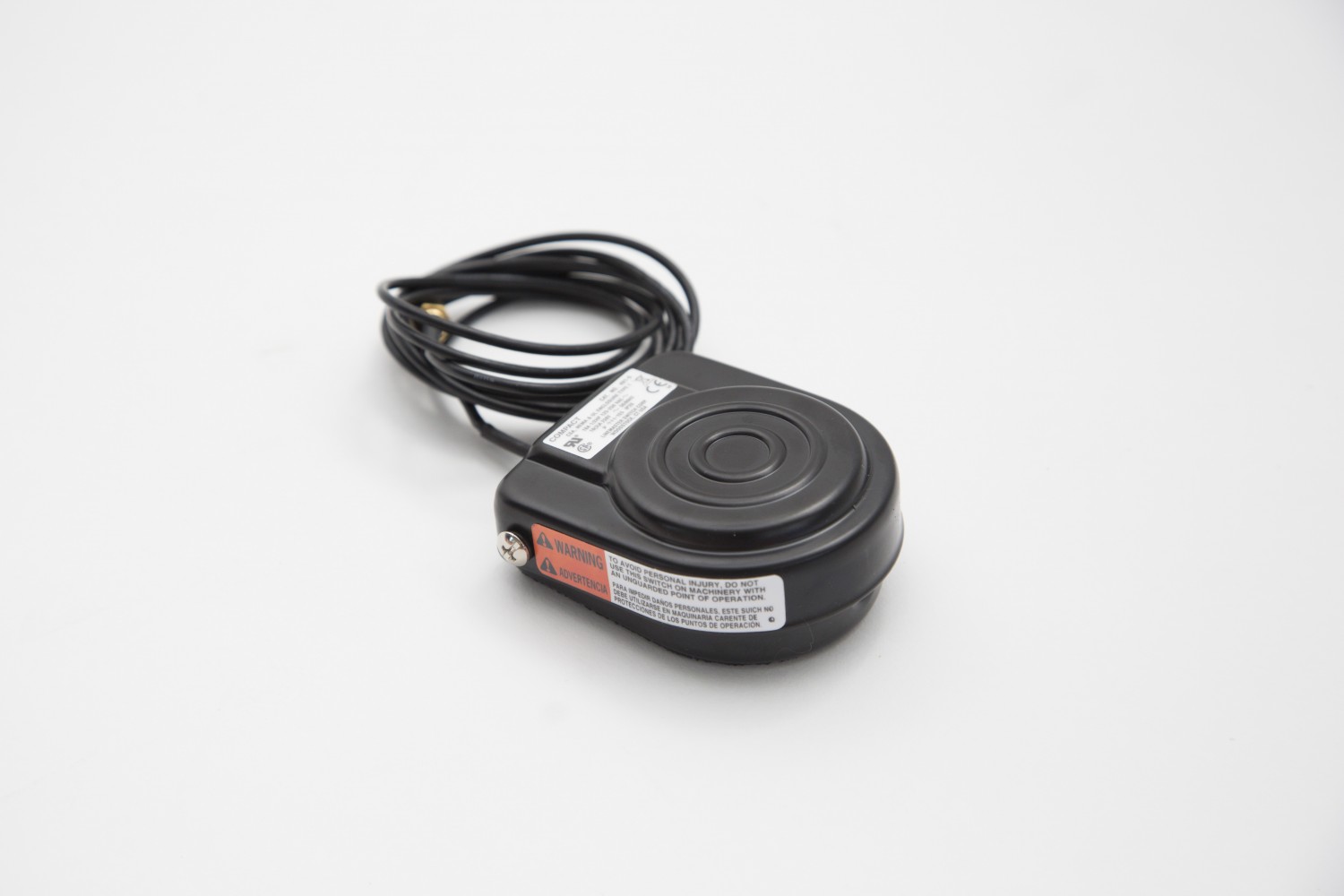 DLSL-09 Adapter
This Dual lemo to microdot adapter is required when using a delay line or pencil probe with our EHC-09 series.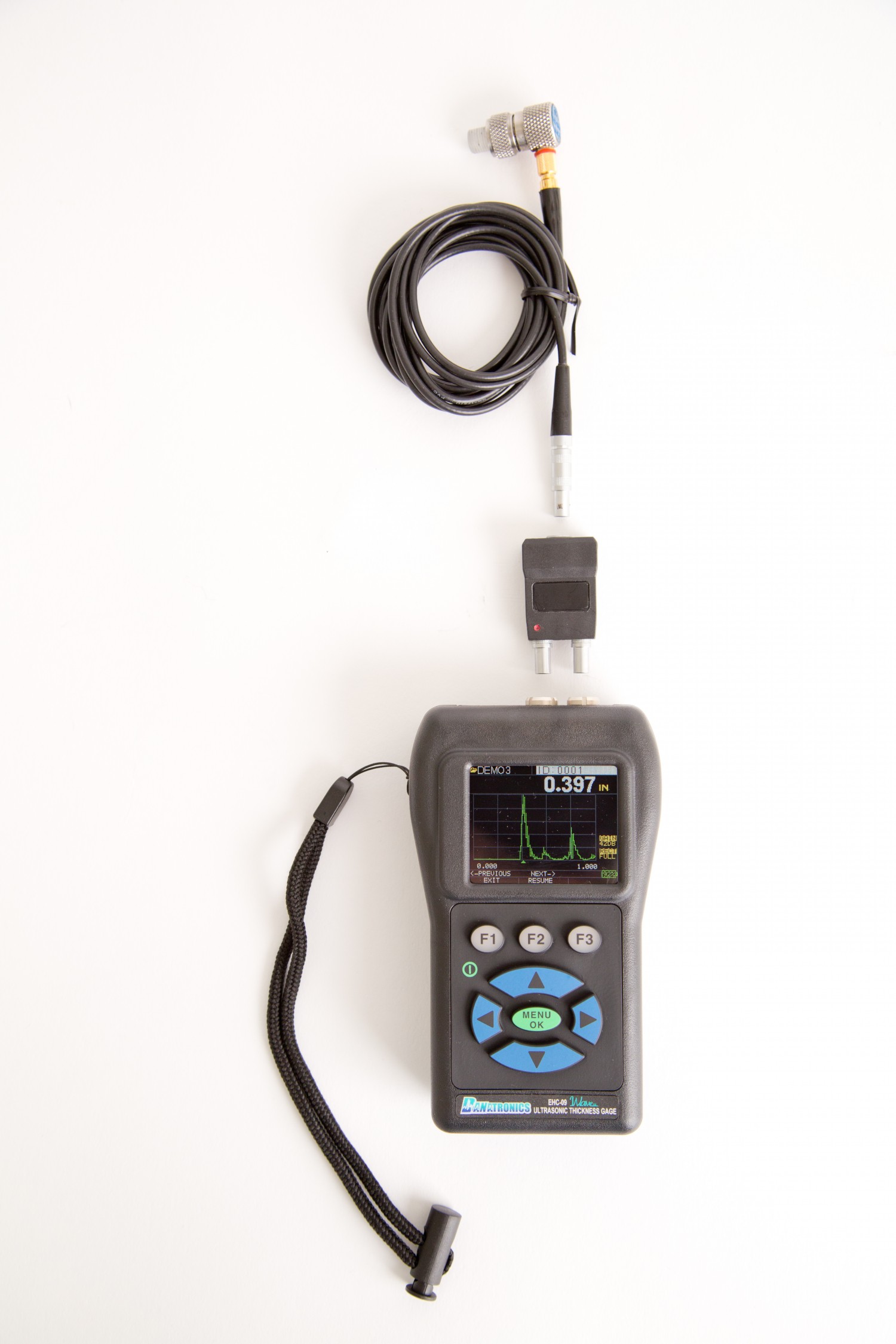 REQUEST A QUOTE
Danatronics offers a wide variety of dual transducers from .5-10 Mhz , high temperature duals and delay lines including pencil probes (12 Mhz.) for special applications. Consult Danatronics or one of our authorized representatives for the proper use and recommendation for your application.
For complete list including specifications please see our
transducer chart
Dual Transducers
Danatronics dual transducers are stocked in a wide variety of frequencies and diameters, from 0.5mHz to 10mHz. Most of our dual transducers come standard with a potted cable and molded plug. For our non-potted dual transducers that come with microdot connectors we offer both standard and armored cables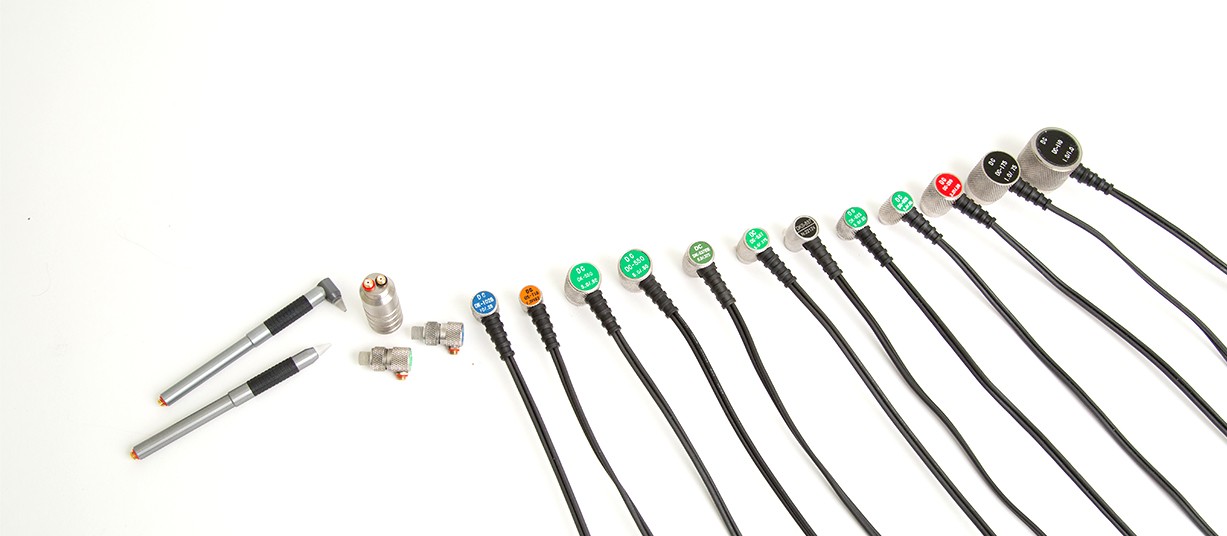 Delay Line Transducers
Danatronics delay line transducer are available in 5, 10 and 20 mHZ options.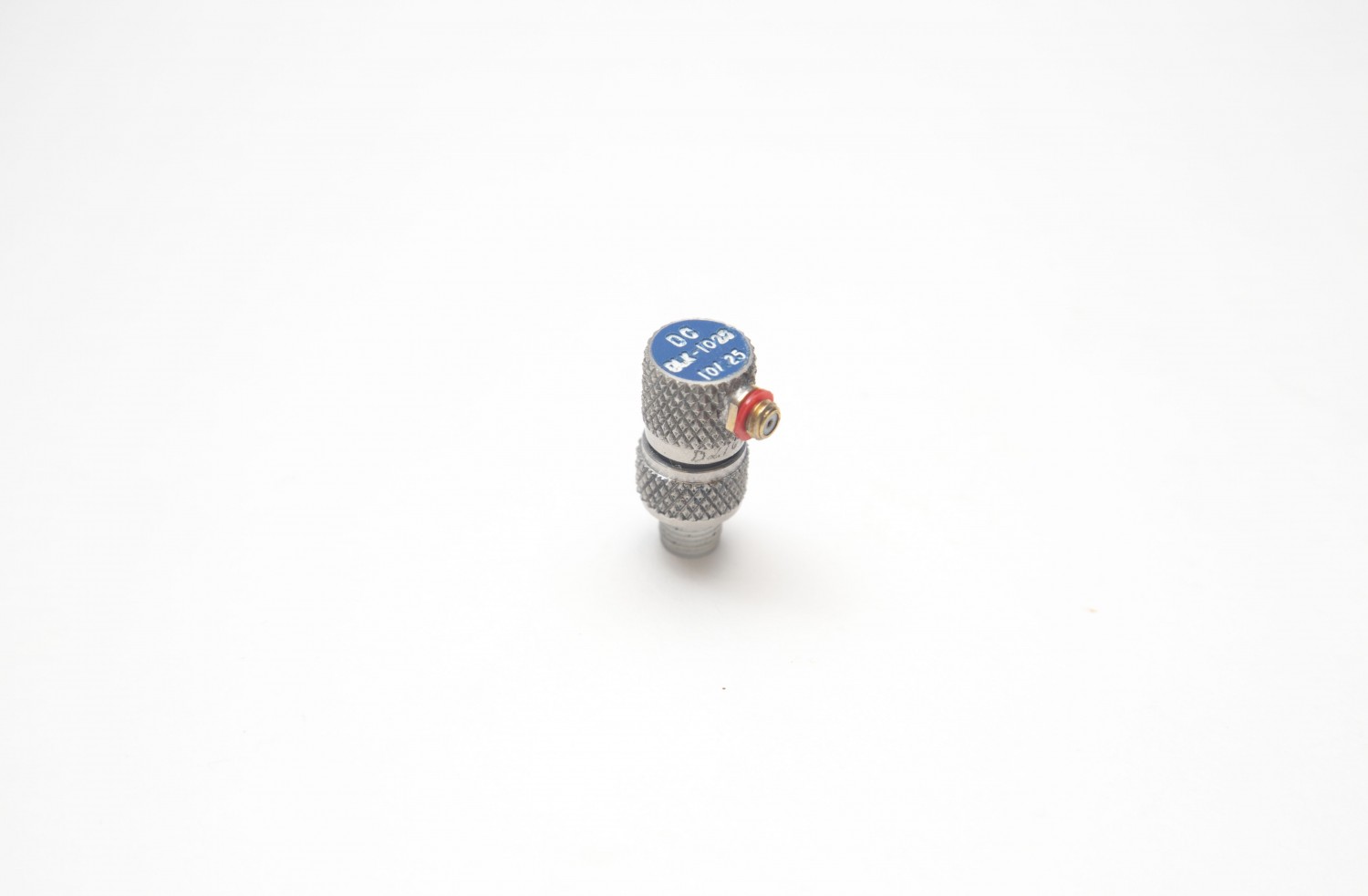 High Temperature
The DHT-537 high temperature dual (up to 950F intermittent use) shown with optional Bell Housing and available armored Dual Lemo to Microdoct 6' cable with molded plug (DLM-09ACMP)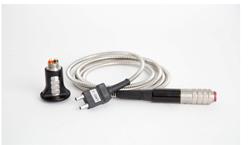 Spring Loaded Holder
Available for DK718
Danatronics Spring Loaded Holder has dual v-notches for small diameter pipes and tubes to prevent probe "rocking"